Profhilo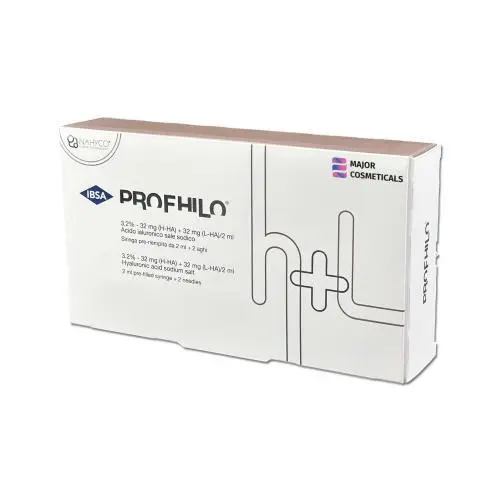 About Profhilo Dermal Fillers
Developed by IBSA, Profhilo is a ground-breaking injectable and topical hyaluronic acid-based therapy that uses NAHYCO Hybrid technology, a patented thermal production process. Thanks to the unique rheological characteristics, tissue remodeling and improvement in skin laxity are easily obtained in only 2 sessions at a one-month interval.
Major Cosmeticals offers to buy Profhilo online at the best price. We only sell authentic and certified products and provide fast worldwide delivery to your location.
Profhilo Product Line
Profhilo dermal fillers effectively treat the signs of skin aging thanks to the combination of hydration and bio-stimulation effects, making these injectable gels a popular choice among patients. Product range consists of two solutions designed for the face and body.
Profhilo H+L
H+L contains both high- and low-molecular-weight hyaluronic acid, known for their hydrating and volume-restoring properties. The product is designed to correct wrinkles and skin laxity on the jowls, cheeks, temples, forehead, hands, inner arms, and neck, improving skin density and texture for a more youthful appearance.
Profhilo Body Kit
The kit contains two syringes of Profhilo Body 3ml, one pack containing four Profhilo Figura Body Patches and one Profhilo Figura Body Cream 150ml for home care. The Profhilo Body injection is intended to treat the skin that has lost structure and firmness. The treatment is ideal for areas such as the abdomen, upper arms, and inner thighs.
Benefits of Usage
Reducing the appearance of fine lines and wrinkles;
Restoring volume and firmness;
Stimulating the production of collagen and elastin;
Treating skin laxity and enhancing the appearance of the skin;
Improving skin hydration, radiance, and texture.
Contraindications
Pregnancy or breastfeeding;
Known hypersensitivity or allergic reactions to hyaluronic acid;
Immunocompromised patients and those with bleeding disorders;
Skin infection or inflammation in or near the area to be treated.
Side Effects
As with any aesthetic treatment, patients may experience several minor side effects, such as swelling, pain, bruising, itching, and redness at the injection site. These adverse reactions usually subside within a few hours to a day and can be minimized by applying cold to the treated area.
Precautions
Profhilo dermal fillers should be administered by a qualified medical professional who has extensive experience with injectable treatments. Profhilo is applied in the superficial subcutaneous layer using a variety of aesthetic injection techniques. It is advised to avoid strenuous activity for 24 hours, as well as to postpone other cosmetic treatments for 48 hours.
Duration of Effects
The results of Profhilo injections remain visible for about 6-12 months. After a full course of treatment, follow-up sessions are normally recommended every 6 months.