Radiesse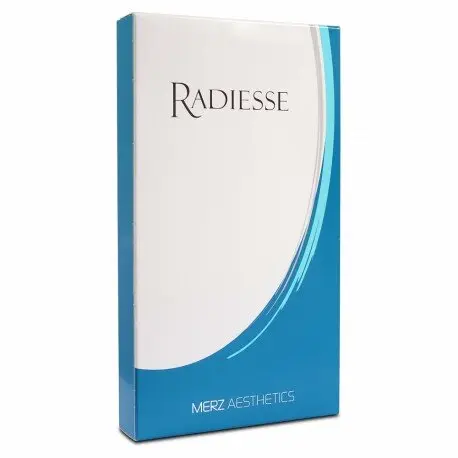 About Radiesse Dermal Fillers
Produced by Merz, Radiesse is the first and only FDA-approved CaHA portfolio for the correction of volume loss. The CaHA particles integrate into the skin and act as a scaffold, encouraging collagen and elastin production and maintaining skin structure. This makes Radiesse injectable products last longer than other dermal fillers, providing noticeable skin rejuvenation for up to 2 years in most patients.
You can buy Radiesse online from Major Cosmeticals at the most reasonable price. Do not hesitate to contact us for more details on products and our delivery options.
Radiesse Product Line
The Radiesse injections offer an instant volume boost and immediate lifting and contouring effects. Radiesse is available with and without lidocaine for extra comfort during injection.
Radiesse 1.5ml
Radiesse filler is used to correct facial fat loss, fill in moderate to severe facial wrinkles, such as marionette lines, smile lines, or chin wrinkles, and lift sagging skin. The result is a soft, natural, and youthful appearance.
Radiesse 1.5ml + Lidocaine
Radiesse filler with lidocaine also adds volume to the skin to temporarily smooth facial wrinkles while giving the skin an instant lifting effect. The substance contains lidocaine, a potent anesthetic, to make injections a more comfortable experience.
Benefits of Usage
Smoothing moderate to severe facial wrinkles and folds, including nasolabial folds;
Plumping the back of the hands;
Restoration and/or correction of lipoatrophy in people with human immunodeficiency virus (HIV).
Contraindications
Patients with known hypersensitivity to any of the components;
Acute and/or chronic skin inflammation or infection in or around the treatment area;
Pregnant and breastfeeding women;
Patients under 18 years of age;Patients with increased susceptibility to keloid formation and hypertrophic scarring.
Side Effects
Some minor injection-related reactions, including bruising, erythema, swelling, pain, itching, discoloration, or tenderness, may occur at the site of the injection. These side effects usually disappear without any medical attention in one to two days after the treatment.
Precautions
Radiesse should only be used by healthcare providers with extensive expertise in aesthetic procedures. Products must not be injected into a blood vessel. The safety and effectiveness for use in the lips and periorbital area have not been studied. The patients should minimize exposure of the treated area to excessive sun or heat for approximately 24 hours after the procedure or until any initial swelling and redness has resolved.
Duration of Effects
The effects of Radiesse dermal fillers may last from one to three years, depending on the severity of facial lines and the area of treatment.