According to the International Society of Aesthetic Plastic Surgery, approximately 18 million dermal filler treatments are given yearly. They are an excellent non-surgical solution for treating wrinkles and fine lines, adding volume to your skin, and addressing other skin imperfections. If you are considering injectable treatments and want to learn which dermal fillers are perfect for your individual needs, here is our complete guide to the best dermal fillers in 2023. Before you choose a filler, let us have a brief look at some of the most effective brands and how they can be used.
Quick Summary: List of Best Dermal Fillers
What Are Dermal Fillers?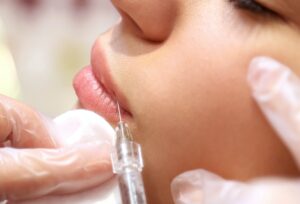 Dermal fillers are soft, gel-like substances that are injected into the skin. Before looking at the best types of aesthetic solutions available on the market, it is important to understand what these cosmetic products consist of and how they can be used to enhance your appearance.
What Are Dermal Fillers Composed of?
Hyaluronic Acid (HA)
Hyaluronic acid is a substance naturally occurring in the body. It supports skin hydration and helps soft tissue maintain its volume and plumpness. Hyaluronic acid gels offer temporary effects — and are the most widely used injectable treatments because of their safety and versatility. Juvederm, Stylage, Saypha, Profhilo, Belotero, and many others are among the best-known brands in the world. HA-based aesthetic products restore skin's fullness and elasticity, add volume and reduce the appearance of fine lines and moderate-to-severe facial wrinkles and folds.
Calcium Hydroxylapatite
СaHA solutions, such as Radiesse, are made up of calcium microspheres suspended in a gel carrier. These fillers provide longer-lasting effects by stimulating collagen synthesis in addition to volume restoration. CaHA gel is frequently indicated for hand rejuvenation, nasolabial folds treatment, and deep wrinkle reduction.
Poly-L-lactic Acid
Poly-L-Lactic acid (PLLA) solutions, such as Sculptra, stimulate collagen production over time to provide gradual and natural-looking improvements in skin texture and firmness. PLLA gels are designed to eliminate deep lines around the mouth and restore volume to hollow cheeks or sunken temples.
Polymethylmethacrylate
PMMA solutions, like Bellafill, include microspheres that offer structural support and encourage the production of collagen. They are commonly used to treat deep wrinkles and acne scars and last for up to five years.
What Can Dermal Fillers Be Used for?
Facial Rejuvenation
Facial fillers help to improve the appearance of wrinkles of different depths, restore volume and structure to the treatment area, and even enhance overall skin quality. With dermal injections, it is possible to maintain a healthy level of hydration and reboot skin elasticity, radiance, and firmness that have naturally been lost with time. You can use Juvederm Ultra XC, Belotero Balance, Restylane Defyne, Stylage S, Teosyal, and many other injectable products.
Lip Enhancement
Lip augmentation is arguably the most well-known application of dermal fillers today. Lip filler treatments are readily tailored to produce a slight — or more noticeable — augmentation to the natural shape and contour of the lips and to balance out the texture by filling in wrinkles and improving symmetry. There is a wide variety of injectable lip fillers on the market designed specifically for lip enhancement and shaping, such as Juvederm Volbella, Juvederm Ultra XC, Stylage Special Lips, Belotero Lips, Restylane Kysse, etc.
Cheek Augmentation
Dermal injections are the most popular non-surgical procedure for adding volume in the mid-face, temples, and cheeks in those who would like to restore their youthful contours. Cheek fillers are also popular among younger patients who want to improve the definition of their cheekbones and facial profile. Experts in the field of aesthetic medicine typically use Juvederm Voluma XC, Radiesse, Sculptra, Restylane Lyft, and Restylane Contour for the cheeks.
Body Contouring
Body contouring treatments are also growing more widespread, particularly among individuals seeking non-invasive or minimally invasive aesthetic procedures to achieve their desired body shape. Body fillers may be used to address skin laxity and depressions on the knees, elbows, arms, and thighs, add volume to the calves or buttocks, and increase skin elasticity all over the body, including the hands and décolletage. Sculptra, Profhilo, and Hyacorp are the most well-known brands for body contouring.
What Are the Best Dermal Fillers?
Injectable fillers have acquired enormous popularity in the field of aesthetic medicine, delivering a wide variety of non-surgical treatments for volume enhancement and wrinkle correction. As the demand grows, new manufacturers arise, each offering a unique collection of skin injections with their own distinctive qualities.
1. Juvederm
Juvederm is a collection of hyaluronic acid-based injectables offered by Allergan, a leading aesthetics manufacturer. Since its launch in 2000, the Juvederm line has become among the most popular facial and lip fillers on the market with more than 100 million syringes sold worldwide. Juvederm offers a wide range of distinct products, each serving a unique purpose — whether it is to smooth out wrinkles, restore volume for a gentle lifting effect or to reshape and redefine the lips.
How Does Juvederm Work?
Juvederm works by adding volume to different areas of the face through its active ingredient, hyaluronic acid. Since hyaluronic acid binds to water, it can hydrate your skin and make it appear younger. HA helps to fill in any lines or sunken areas and stimulate collagen production in your skin.
Juvederm's Longevity
6-18 months
Juvederm's Prices
€ 110.00 – 235.00
2. Stylage
Introduced to the market around 2011 and manufactured by the French company Vivacy Laboratories, Stylage dermal filler range employs crosslinked hyaluronic acid and a natural antioxidant (mannitol) to minimize visible signs of aging. Stylage fillers are designed for wrinkle correction, lip enhancement, volume restoration, rehydration, remodeling, and skin rejuvenation. Their revolutionary compositions produce long-lasting effects for all skin types.
How Does Stylage Work?
The filler consists of tiny particles of HA that attract water, which helps add volume to the treated area. The HA in the filler also helps stimulate collagen synthesis, further enhancing the results. The presence of mannitol, a potent free radical scavenger, limits the effects of free radicals on the dermis and on the product injected, thus reducing the risk of post-injection inflammation and preventing HA degradation in the body.
Stylage's Longevity
6-18 months
Stylage's Prices
€ 42.00 – 181.00
3. Saypha (former Princess)
Saypha is a range of HA-based injectables developed by the Austrian pharmaceutical company Croma, a leader in the manufacturing of aesthetic products. Formerly known as Princess, the range was reformulated and rebranded in 2019. Saypha dermal fillers are injected into the dermis to help fill in facial wrinkles as well as get plumper lips and fuller cheeks. Some of the fillers contain lidocaine, a mild anesthetic, which makes the injection more comfortable.
How does Saypha Work?
The HA in Saypha is crosslinked using Croma's patented Supreme Monophasic and Reticulated Technology (S.M.A.R.T.) to produce a dense three-dimensional structure resistant to biodegradation. When Saypha fillers are injected into the dermis, the skin's supply of HA is replenished, which results in smoother and more youthful-looking skin.
Saypha's Longevity
3-12 months
Saypha's Prices
€ 35.00 – 70.00
4. Teosyal
Teosyal was launched in 2003 by Teoxane (Switzerland), a leader in the production of injectables based on HA. The Teosyal range consists of different formulations that restore the tone, firmness and youthful appearance of the skin. Teosyal hyaluronic acid fillers can be used for all areas of the face; they effectively fill finer and deeper wrinkles alike, enhance the lips, cheekbones, and chin and compensate for the loss of volume in those areas that have sunken or thinned due to aging.
How does Teosyal Work?
Injected into the dermis, Teosyal effectively combats the signs of aging by restoring the lost volume, hydrating the skin and diminishing wrinkles thanks to its high HA concentration. The effects achieved with Teosyal fillers are visible immediately after the treatment.
Teosyal's Longevity
6-18 months
Teosyal's Prices
€ 89.00 – 195.00
5. Radiesse
With more than 10 years on the market, Radiesse by Merz Aesthetics is the preferred choice of many physicians across the world. Radiesse is a unique, durable calcium hydroxylapatite-based skin treatment designed for correcting moderate to deep lines, lifting and contouring with collagen-based volume enhancement, and improving skin quality. Radiesse fillers are available with and without lidocaine.
How does Radiesse Work?
When injected, the gel-like substance instantly provides volume and lift to the treated area, reducing the appearance of wrinkles and folds. Additionally, calcium hydroxylapatite (CaHA) microspheres stimulate the synthesis of collagen in the skin. As collagen forms around the microspheres, it helps to maintain the skin's natural volume and improve its elasticity over time.
Radiesse's Longevity
12-18 months or longer
Radiesse's Prices
€ 121.00 – 124.00
6. Belotero
Manufactured by Merz Aesthetics, Belotero is a portfolio of unique dermal injections made of hyaluronic acid, a natural component of the skin. The Belotero portfolio has seven different products that can be used alone or in combination to rejuvenate the face. Each gel has its own characteristics and intended use. The Belotero range is designed to address multiple areas of concern, including lip augmentation, reducing fine lines, smoothing contours and restoring structure.
How does Belotero Work?
Once injected, Belotero instantly fills your skin, providing volume and smoothing out facial lines. In addition to filling wrinkles, Belotero hydrates the skin to keep it looking plump and radiant. Belotero's advanced manufacturing process known as CPM technology allows the gel to "mimic" tissue behavior — to ensure optimal integration of the gel into the surrounding tissue.
Belotero's Longevity
6-18 months
Belotero's Prices
€61.00 – 185.00
7. Profhilo
Profhilo provides sophisticated and unique anti-aging therapies known as injectable bio-remodeling treatments. Introduced to the market in 2015 by IBSA Derma, Profhilo gels are composed of highly purified HA produced using the patented NAHYCO technology and are designed to encourage natural skin rejuvenation. The range of products includes Profhilo H+L, which is excellent for addressing skin laxity in the face, hands, and décolleté, and Profhilo Body Kit that targets skin laxity on the body.
How does Profhilo Work?
When injected, Profhilo slowly releases the highest concentration of pure HA to deeply hydrate the skin from within, resulting in a smooth and fresh appearance. Profhilo naturally stimulates the production of collagen and elastin while nourishing the cells for a long-lasting skin quality improvement.
Profhilo's Longevity
6-12 months
Profhilo's Prices
€ 114.00 – 270.00
8. Prostrolane
Developed by a world-known South Korean company, Caregen, the Prostrolane range includes innovative injectables for body slimming, facial rejuvenation, and skin brightening. Crosslinked HA and biomimetic peptides make up unique combinations that are widely used for addressing age-related skin concerns, restoring lost facial volume, and breaking down undesirable fat deposits in the body. Prostrolane dermal injections are appreciated for their efficacy, excellent quality and purity of all ingredients, and cutting-edge production techniques.
How does Prostrolane Work?
The Prostrolane range consists of 4 different products: 2 skinboosters and 2 fat-dissolving injections. Due to the application of the slow peptide release technology, Prostrolane anti-aging solutions keep working for 2 weeks after the procedure — the peptides are slowly released and penetrate deeper skin layers, while HA restores the moisture balance. Prostrolane fat dissolving injections affect the natural process of lipolysis in the adipose tissue of the patient's body. They safely and naturally reduce the amount of fat and significantly improve the condition of the skin.
Prostrolane's Longevity
9-12 months
Prostrolane's Prices
€ 62.00 – 75.00
How to Choose the Best Dermal Filler for You
With so many various products on the market today, it might be challenging to choose the one that best fits your individual needs. Here are the first three steps to be taken to find the right treatment for you.
Step 1: Decide what skin concerns you want to address. In general, dermal injections lift, smooth, and plump the skin, giving it a more youthful appearance. However, since each one has a different texture, density, and injection depth, certain fillers are more suitable for specific areas of concern than others. To achieve the most natural-looking and long-lasting results, the gel should be chosen depending on the area to be treated.
Step 2: Consider your skin type and medical background. Skin injectables are generally safe for all skin types, although certain ones can be more effective than others in treating such conditions as acne or sun-damaged skin. Furthermore, before choosing a treatment, you should discuss with your doctor your medical history, including any drug allergies, whether or not you smoke, and any current medical concerns.
Step 3: Compare the qualities of different dermal injections with your doctor. Many factors are normally taken into consideration when choosing the right type of filler. Please note that selecting an appropriate product is just as important as choosing the physician who will perform the injections. The treatment should only be carried out by qualified and experienced medical professionals.
Frequently Asked Questions
What Is the Best Dermal Filler to Use?
All injectable solutions have their own benefits, and one is not universally better than another. Medical professionals can help you determine the best types of fillers for you based on the area you would like to improve, your own facial structure, and your desired results.
Which Filler Gives the Best Results?
Most brands offer a wide variety of aesthetic options that are intended for use in specific indications. Fillers are chosen based on the amount of volume needed and the target area in order to achieve the best results.
What Fillers Are the Best Options for Lip Enhancement?
The best type of filler for the lips will depend on the results you want to achieve. Products containing hyaluronic acid are the most popular choice among patients seeking to plump and define the lips. The result is an immediate and long-term improvement lasting for up to 18 months.